At Shooting For Success, we're so much more than basketball training.
We are a basketball organization dedicated to teaching athletes the right mechanics, a better understanding of the game, and a set of core values we expect our players to demonstrate on and off the court.
Our team is led and founded by David DJ Jones, known around the world as "The Shot Doctor". Our trainers have all played elite level ball and share a desire to teach, inform, and grow not only better players, but better people.
Camps

1-On-1 Training

Club teams

Our club teams play to win. Our camps produce more skilled athletes in just days. Our private training fixes what's broken and turns good to incredible.
Tell Us About Your Athlete:
News and Updates
Summer Camp kicks off June 5 and runs weekly through August 18, 2017.
Boys and girls age 5 – 14 of all skill level welcome! Camp includes lunch and t-shirt! We offer 4-day camp & 5-day camp. Additionally, SFS offers a daily camp rate for those players new to Shooting For Success Summer Camp.
Did you know SFS offers an early registration discount for 5-day camp? Save $45 with early registration! To receive discount, player must be registered, online, at least two weeks prior to camp start date.
Early registration payment of $180 ($45 discount) can be mailed to 19179 Blanco Rd Ste. 105-215 San Antonio, TX.
Player can also pay early registration fee at on-site registration on the first day of camp.
Same-Day registration cost is $225.
Camp is held at 23755 Canyon Golf Rd. from 8AM – 5 PM Monday through Friday.
For complete camp descriptions and costs, please click on our training page under camps.
SFS ADDING ADVANCED SKILLS AND ADVANCED SHOOTING CLINICS, FRIDAYS, STARTING JULY 21!
Coach DJ is adding Advanced Clinics to his summer line-up for those players 13 & Up with proven basketball experience. See a full description on our training page under camps.
LOCATION and Map
Shooting For Success is lucky to have a home gym at its disposal 7 days a week. Coach DJ holds "Open Gym" Saturday and Sundays for SFS enrolled players looking to get in extra time on the court.
Meet David (DJ) Jones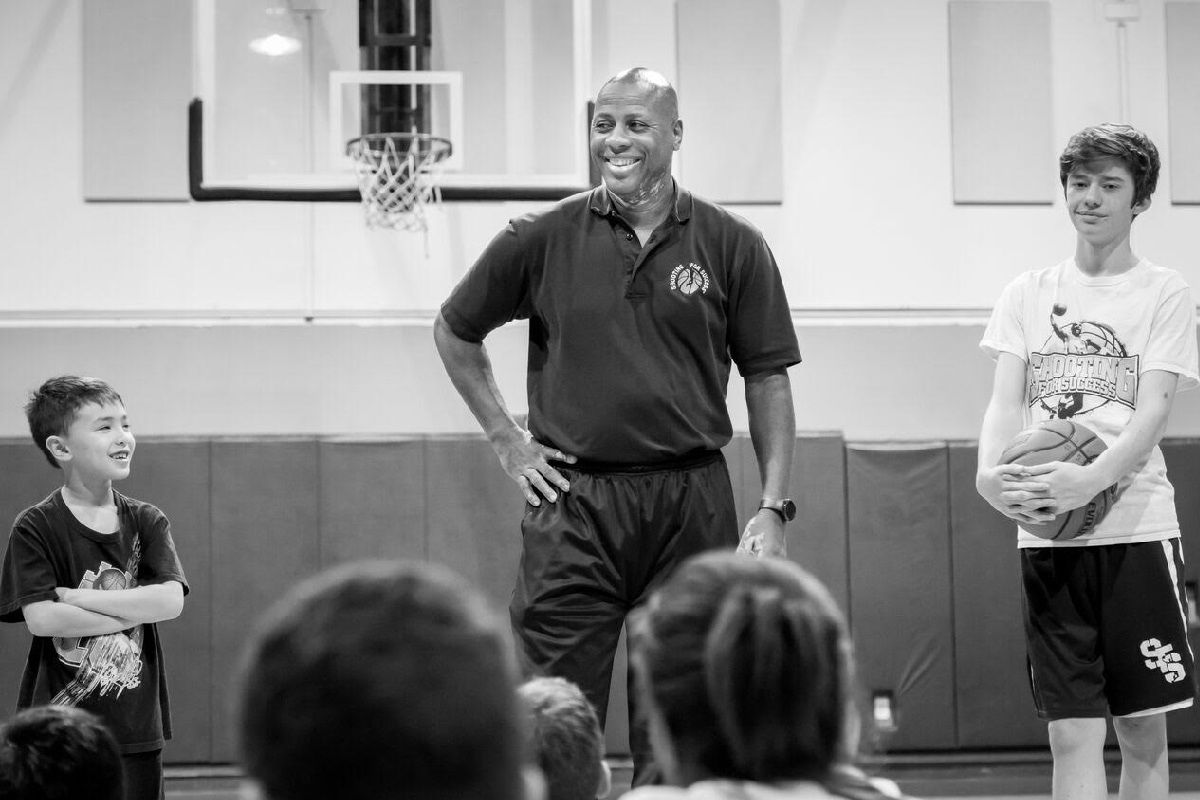 I played professional basketball for over 13 years throughout Europe. I've trained some of the worlds best, and, I'm a dad of a collegiate basketball player.
There's nothing I love more than sharing this lifetime of basketball knowledge and experience with your child.
~ David "DJ" Jones
SFS Founder / Trainer / Coach